Here at the Rising Sun we are a truly local pub in the village of Nether Green. We pride ourselves on our community spirit and it's important to us to make each and every customer feel a part of it. We are also a family friendly pub (including treats for any canine companions!).
Children's Charter
Under the licensing objectives we do have a requirement to take steps to protect children from harm on our premises. In order to do this we operate a Children's Charter. We request that under 16's who are not dining please vacate the premises by 7:30pm, and those that are dining by 9pm. We also ask that children remain with a responsible adult at all times and are not seated in the bar area. We regret that we cannot serve children directly at the bar, even for soft drinks and snacks. Thank you in advance for your co-operation.
Code of Conduct
This document is intended to introduce our Equal Opportunities and Diversity policy and our company culture to all employees, customers and stakeholders of both Abbeydale Brewery and The Rising Sun (Abbeydale Inn's Ltd). We embrace, encourage and celebrate our employees' and customers' differences, and are dedicated to providing a safe and harassment-free environment for everyone, regardless of their gender, age, sexual orientation, disability, race, religion or belief, family status, political belief or trade union membership. We do not tolerate harassment or bullying of employees or customers in any form.
Our Code of Conduct can be viewed in full here.
Field to Fork
Are you green fingered and a fan of a nice cool drink after a hard days graft in the garden? Then this might be just the scheme for you. Since launching our new kitchen back in 2015 we aim to have a seasonal menu featuring the very best fruit and veg available at each time of year. This is where you come in!
We offer an exchange scheme where you can swap your excess home grown fruit & veg for beer tokens, which entitle you to any draught beer or cider priced at £3.50 or below, or a 175ml glass of house wine. Either drop us an email on risingsun@abbeydalebrewery.co.uk or pop into the pub and speak to Garry or any of the team if you are interested in taking part.

RAIN Rescue
We have been supporting local dog rescue charity RAIN Rescue for a number of years. Primarily they take dogs out of the local council pound to avoid the threat of euthanasia. You can read more about what they do here. You can help us support them throughout the year by donating any change in their collection buckets on the bar and of course by partaking in the Annual Sunfest Dog Show!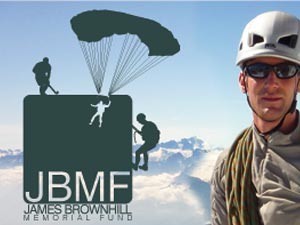 James Brownhill Memorial Fund
Every year, our Sunfest festival supports a local good cause – in 2019 we chose James Brownhill Memorial Fund. This fund has been set up by James' family following his death on 1st July 2011, on the Frendo spur, Chamonix, France. They provide a number of buseries encouraging safe practice and training for moutaineers.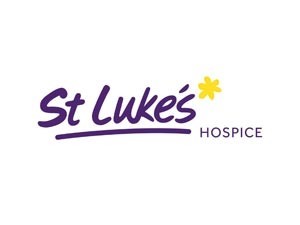 St Luke's Hospice
Needing little introduction to most people in Sheffield, we have been supporting St Luke's for many years.
We regurlary run our weekly quiz in aid of them and you can always find a collection bucket on the bar.
To find out more about what they do visit their website.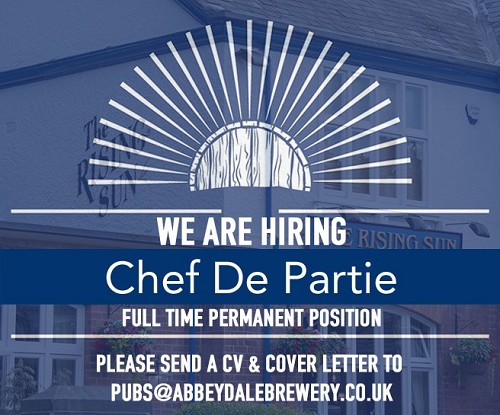 CHEF DE PARTIE
Date Advertised: 10.01.22
The Rising Sun is a thriving independent community gastropub located in the S10 (Fulwood) area of Sheffield, providing an excellent selection of craft ales alongside a creative, seasonal food menu that aims to showcase the best of British produce with both modern and classical techniques.
We work with local suppliers wherever possible and have a 'Field to Fork' scheme which allows us to engage with local growers as part of our community ethos.
We are looking for an experienced Chef De Partie (may also suit a Commis looking to move up) to join our small, close-knit team. You will be a team player, excellent communicator, passionate, willing to get stuck in and have a creative flair you want to showcase.
What we can offer:
An excellent work/life balance - no splits, max 45hrs per week
Finished by 10pm, starting no earlier than 8am (but usually 9am)
Christmas Day Off
Excellent public transport links across the city
A competitive salary
Paid overtime
Bonus Scheme
Uniform provided
Meals on duty
20% off at our online brewery shop and pub
Investment in training and chance of progression within the team
Creative input towards our seasonal menus
Salary £22,250 per annum plus over-time ands bonuses (may consider an hourly rate or other flexible working options, to be discussed in person).
Please email a CV and cover letter to kitchen@risingsunsheffield.co.uk