Welcome
to The Rising Sun, Sheffield
The Rising Sun is a community pub, showcasing 12 real ales. You will be given a warm welcome by our friendly staff, who will be pleased to offer their advice and recommendations on our wide range of drinks. You can take your time whilst you peruse the many different ales to suit every taste, or if beer isn't your usual tipple of choice, we also have a fantastic selection of wines, spirits and soft drinks. We are passionate about the local community and thrive to strengthen our links with local people whilst showcasing what Abbeydale Brewery do best!
The pub has undergone a fantastic refurbishment and extension and we are now complimenting this unique pub by offering quality home cooked food. Our newest menu was launched on 3rd August and has been going down a treat. You can view our new offerings here. Food is served until 10pm Monday - Saturday and until 8pm on Sundays and Bank Holidays. We have a children's menu available and also one especially for those of you who are gluten free.
We have recently had new keg lines installed on the bar, taking our full offering of lagers, ciders and craft keg ales to 13. This has seen us add Aspall as an additional cider, two new lagers in the form of Yorkshire Lager and Revisionist Craft Lager and taken our craft keg offering to three with a rotating guest and Full Moon Lager complimenting the already established and ever popular Heathen. Why not pop in and give them a try?
News
We recently bid farewell to managers Ryan & Nicole Tissington who have moved on to undertake a new venture. We thank them for all their hardwork over the past couple of years at The Rising Sun and wish them all the best for the future. Our new General Manager, Catherine, joined us on the 14th November and brings plenty of experience with her. We hope you'll join us in offering her a warm welcome..
Have you heard about our recently launched field to fork scheme? If your hobbies include growing your own fruit & veg and drinking good beer (or wine) this could be of interest to you. Click here for more info.
We have a new addition to our bar! We have now given one of our 13 handpulls permanantly over to offering a Real Cider. The cider on offer will vary as we rotate through a variety of guests but there will be plenty of interesting specimens to sample.
Events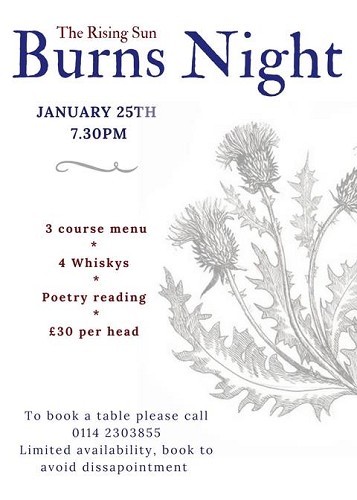 View all upcoming events
The Rising Sun
Getting Social