This event has finished
Charity Dog Walk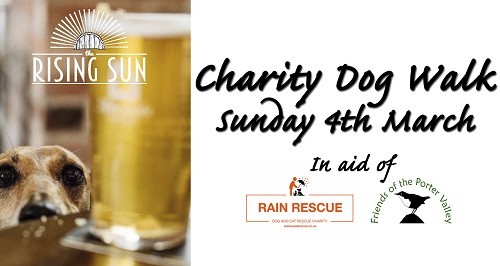 This event has been postponed due to the un-dog (and people) friendly weather. Please check back for updates regarding a new date.
We are hosting a Charity Dog Walk on Sunday 4th March in conjunction with fantastic local charities, RAIN Rescue and Friends of the Porter Valley.
Setting off from The Rising Sun at 11am, after a tipple to get us going, we'll walk our collective four legged friends up to Forge Dam to learn a little bit of history about the beautiful Porter Valley area and then stop for a cup of soup to warm our cockles. We'll then head back to the pub for a raffle in support of both charities and a prize giving for the pooches.
We are asking for a minimum donation of £5 per dog (proceeds to the charities) and any donations of raffles prizes are also welcome!
To find out more about these worthy causes see here for RAIN Rescue and here for Friends of the Porter Valley.
Event:
Charity Dog Walk
Address:
Date:
04/03/2018 to 14/03/2018
Start Time:
11:00