This event has finished
New Years Eve - Fairytale Banquet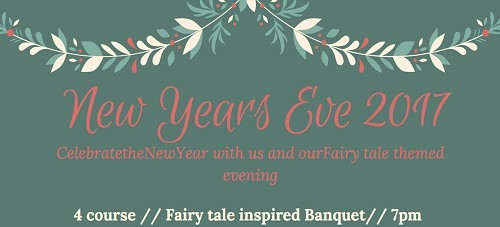 On New Years Eve we will be offering you the chance to embark on a Fairytail inspired culinary adventure with us as we count down the minutes towards midnight. This is a 4 course set menu with one sitting, starting at 7pm. Booking is mandatory and the cost is £30 per person, with a deposit required at the time of booking. There is an option to add a drinks pairing to your meal for £15pp (a drink with each course) and local band The Beat Merchants will be performing live in the pub from 9:30pm.
The Menu courses will be inspired by the following themes:
You Shall Go To The Ball
Under The Sea
Three Little Pigs
Goldie Locks
Please call us on 0114 230 3855 or email us at info@risingsunsheffield.co.uk to book your place!
Event:
New Years Eve - Fairytale Banquet
Address:
Date:
31/12/2017 to 01/01/2018
Start Time:
19:00
End Time:
00:30